YouTube is a widely used social network to promote, entertain and educate audiences. People or businesses always want to increase subscribers/views to promote their content in some countries, including buying country targeted YouTube views. However, YouTube's bot detection is getting better and better. So finding a real provider will give you more views, a better user experience, and the opportunity to expand your content and audience.
Order at RealSubscriber to get targeted YouTube video views.
We guarantee that no Bots, proxies or spamming methods are used. Our targeted YouTube Views services only deliver targeted people to view your YouTube video. They are permanent on your videos and everything is perfect.
Details of the Targeted YouTube Views Service:
Min Order: 500 Targeted Views
Max Order: 100k Targeted Views (please Email Us if you want to buy bigger packages)
Split Views is accepted (multiple of 1000 for each video)

Targeted countries:

ARAB, Argentina, Brazil, Bulgaria, China, Croatia, Egypt, France, Greece, Hong Kong, India, Indonesia, Israel, Italy, Japan, Poland, Russia, Saudi Arabia, Spain, Thailand, Vietnam, UAE, etc.
Please kindly add your targeted country at "Additional information" when you checkout.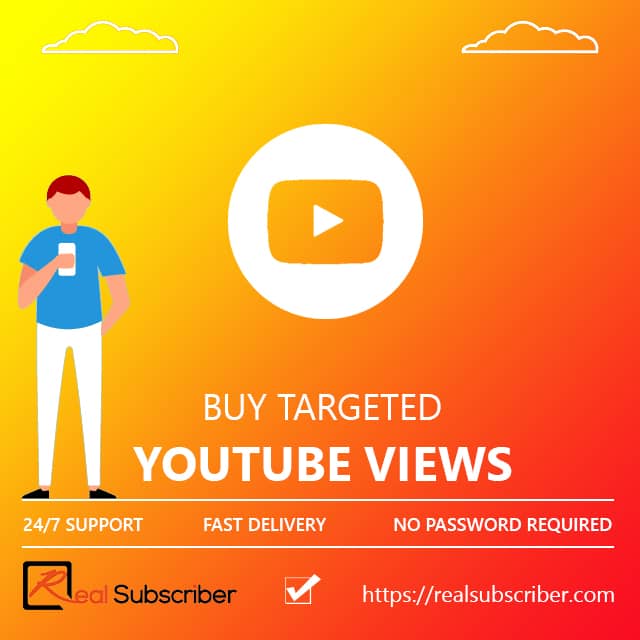 9 WAYS TO INCREASE TARGETED YOUTUBE VIEWS
An interesting descriptive title that includes good keywords will attract viewers and inform search engines and users of your video content. Try to highlight and reflect the core of your video content just like you would with a regular SEO meta description.
YouTube video tags help differentiate your video content and help the algorithm understand what users will see in your video. These along with your description and title should reflect the core of your video content.
Create captions of your videos
Adding closed captions can help get more views on YouTube because they cater to an international audience and people with disabilities. It also helps viewers impress, remember more details in the video.
Similar to guest posting for blog content, guest YouTubers, industry influencers, or those in the spotlight with their own followers can do wonders in promoting your views.
Provide a link to one of their videos or website in your description and you can form a beneficial relationship built on reciprocity.
Use Auto play for your Embedded Videos
The autoplay feature will automatically start playing the video when the video is embedded. You should be careful when doing this, as autoplaying videos may annoy some users.
Post a link to your video on your social media profiles
Cross-platform advertising, especially with YouTube, can be great at driving users to watch. You can increase your reach by sharing links on other social media to bring them to your video.
Find niche communities to share your videos
There are many places where you can share your content. It may be on Reddit or Quora that your video is relevant. Shared target audience is a great place for your videos.
Reach influencers to promote your videos
Influencer marketing is quickly becoming the go-to source for big brands. They have built audiences that retweet and post their content, which has the potential to drive views increase on a viral scale.
Buy country targeted YouTube views
If you are looking to safely increase your YouTube video views with real targeted human, this is the ideal service for you. RealSubscriber's targeted YouTube views services have proven to be an effective tool in helping your YouTube video gain ranking and exposure.