How to turn on Follow Button
Facebook allows users to manage the feature of followers in an easy way. You can enable the Follow Button and people can then press that button to follow you.
If you also among those users don't know how to turn Follow Button on to your Facebook profile, let's help you how to turn on in your Facebook profile. You will learn some of the privacy settings related to it and more stuff.
Don't confuse with friends and followers. Friends are something define user relation. While followers are the people who follow on your posts.
Where are the Follow Button Settings?
Facebook also updates its features as per the user's requirements and for a better experience. Maybe you see some changes of adding features like enhancing the UI as well and moved settings to add an extra one to keep secure their accounts. You can allow people follow you on Facebook profile with your web browser or Facebook app.
Firstly, with your web browser, follow the following steps below to enable Follow Button on your Facebook profile to the public.
1. Tab on your Profile picture at the top left of Facebook
2. Tab on Settings & privacy
3. Tab on Settings
4. Tab on Public posts in the left menu
5. In the Who Can Follow Me section, set to Public.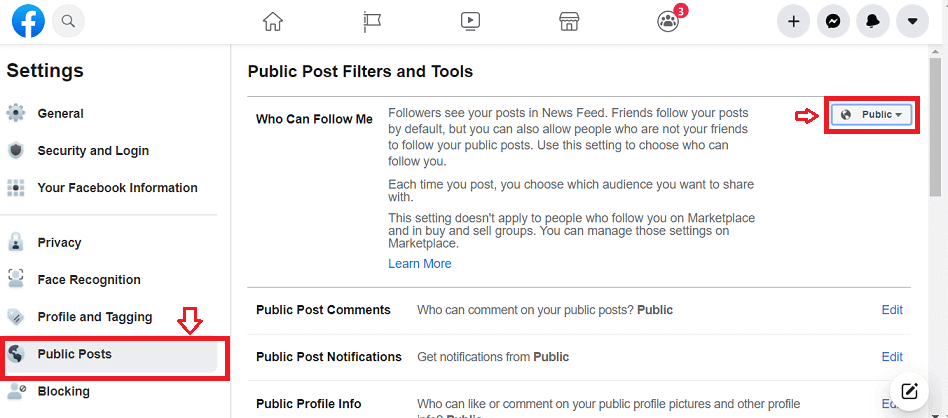 Most people are login with Facebook on their smartphone. So you can turn on the feature of Facebook followers to appear publicly with a mobile app in the following steps:
Open your Facebook App on your Android
Tap on the Main Menu or Three Lines bar
Select the Settings and Privacy option
Next tap on Settings option
Tap on the Public Posts of the Privacy section
Finally, tap on Public under Public post "Who Can Follow Me" on your Facebook profile